The forerunners of today's Pomeranian breed were large working dogs from the
Arctic
regions. These dogs are commonly
known as the Wolfspitz or
Spitz
type, which is
German
for "sharp point" which was the term originally used by Count Eberhard zu Sayn in the 16th Century as a reference to the features of the dog's nose and muzzle. The Pomeranian is considered to be descended from the
German Spitz
.

The breed is thought to have acquired its name by association with the area which is now the northeast region of Germany, known as Pomerania. Although not the origin of the breed, this area is credited with the breeding which led to the original Pomeranian type of dog. Proper documentation was lacking until the pomeranian's introduction into the United Kingdom.[19]
An early modern recorded reference to the Pomeranian breed is from 2 November 1764, in a diary entry in
James Boswell
's
Boswell on the Grand Tour: Germany and Switzerland
. "The Frenchman had a Pomeranian dog named Pomer whom he was mighty fond of."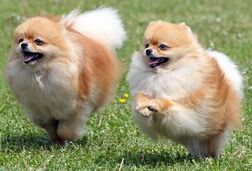 The offspring of a Pomeranian and a
wolf
bred by an animal merchant from London is discussed in
Thomas Pennant
's
A Tour in Scotland
from 1769.
Community content is available under
CC-BY-SA
unless otherwise noted.