&nbsp
The Siberian Husky
is a medium-size, dense-coat working dog breed that originated in north-eastern Siberia. T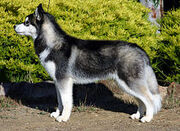 he breed belongs to the Spitz genetic family. It is recognisable by its thickly furred double coat, sickle tail, erect triangular ears, and distinctive markings.
Huskies are an active, energetic, and resilient breed whose ancestors came from the extremely cold and harsh environment of the Siberian Arctic. Siberian Huskies were bred by the Chukchi of Northeastern Asia to pull heavy loads long distances through difficult conditions. The dogs were imported into Alaska during the Nome Gold Rush and later spread into the United States and Canada. They were initially sent to Alaska and Canada as sled dogs but rapidly acquired the status of family pets and show dogs.
Appearance
Edit
Siberian Huskies share many outward similarities with the Alaskan Malamute as well as many other spitz breeds such as the Samoyed, which has a comparable history to the Huskies. They come in a variety of colors and patterns, usually with white paws and legs, facial markings, and tail tip. The most common coats are black and white, then less common copper-red and white, gray and white, pure white, and the rare "Agouti" coat, though many individuals have blondish or piebald spotting. Striking masks, spectacles, and other facial markings occur in wide variety. They tend to have a wolf-like appearance.
The American Kennel Club describes the Husky's eyes as "an almond shape, moderately spaced and set slightly obliquely." The eyes of a Siberian Husky are ice-blue, dark blue, amber, or brown. In some individual dogs, one eye may be brown and the other blue (complete heterochromia), or one or both eyes may be "parti-colored," that is, half brown and half blue (partial heterochromia). All of these eye color combinations are considered acceptable by the American Kennel Club.
The Siberian husky's coat is thicker than that of most breeds of dogs, comprising two layers: a dense undercoat and a longer topcoat of short, straight guard hairs. It protects the dogs effectively against harsh Arctic winters, but the coat also reflects heat in the summer. It is able to withstand temperatures as low as −50 °C to −60 °C. The undercoat is often absent during shedding. Their thick coats require weekly grooming. Long guard hair is not desirable and is considered a fault.
show-quality dogs are preferred to have neither pointed nor square noses. The nose is black in gray dogs, tan in black dogs, liver in copper-colored dogs, and may be flesh-colored in white dogs. In some instances, Siberian Huskies can exhibit what is called "snow nose" or "winter nose." This condition is called hypopigmentation in animals. "Snow nose" is acceptable in the show ring.
Community content is available under
CC-BY-SA
unless otherwise noted.